Kirsti Whitlocke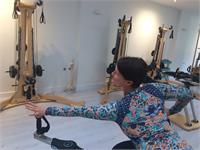 Kirsti Whitlocke is a Coffs girl who until quite recently was living in the UK. She is a classically trained singer who tread the boards in London's West End before retraining as a high school music teacher.
She also qualified as a comprehensive Pilates instructor whilst still in England, and then completed her GYROTONIC® and GYROKINESIS® method
Foundation training in the UK and here in Australia.
Kirsti is really excited about sharing the Pilates and GYROTONIC® methods here in Coffs Harbour at our studio Hara. Her approach to teaching is upbeat and she enjoys making these movements modalities accessible and fun for all.
Kirsti Whitlocke is currently not instructing any classes.